We took a little break for the summer but now we're back! Our next event is Sunfest, this Saturday from 2-7pm at Dix Park in Raleigh, NC. The sunflowers should still be blooming in all their glory!  Come out and shop from local handmade vendors, listen to live music, and enjoy the local food trucks. Arts and crafts are available for the kids so bring the whole family out for a fun filled day!
---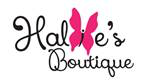 Hey Y'all! We'll be at Halie's Boutique in Cary, NC this Friday night for a Mother's Day event so make plans to stop by and see us! It sounds like a fun night for the ladies with wine samples, raffle prizes, and a braid bar from Twisted Scizzors.  We will have a table setup with all of our handcrafted soaps, lip balms, lotion bars and other products that will make perfect gifts for the special woman in your life. Grab a gift set already filled with lovely items or make your own set! Hope to see you there!
---
There's still time to get the special woman in your life a gift she will love! We offer 3 different gifts sets that you can buy as is or mix the scents and create something new.  Click on the SHOP tab and choose gift sets from the drop down menu. Also, If you're local you can choose the free pickup option at checkout. 
---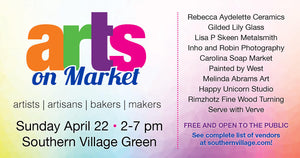 Arts on Market is a bi-annual celebration and shopping event featuring local and regional artists, artisans, bakers, and makers. We are excited to welcome local makers to the Southern Village Green, where visitors can bring their whole family to enjoy an afternoon of art, entertainment, and shopping. Vendors create Jewelry, Pottery, Paintings, Textiles, Accessories, Food, Home Accessories.  Carolina Soap Market is excited to be there and will be bringing our new SPRING soaps! New beer soaps made with craft beer from Carolina Brewery (who will be on site) and also Mother's Day gift sets. Hope to see you there!  ...
---
Yes you are seeing that correctly. We now offer FREE SHIPPING on all order $75 or more! Simply checkout with $75 or more (before tax) and apply the FREE SHIPPING discount code to your order and the shipping amount will be taken off. Woo-hoo!  Thank you again for your patience as we are still getting settled in here at our new website. Look for more updates coming soon such as new artisan and beer soaps, new website product pictures, and more!